Who We Are:
Concept Through Engineering to Manufactured Solutions
In today's competitive global marketplace, manufacturers are under pressure to continuously improve their processes and products. That's why when it comes to can and container end dies, the equipment that runs them, or almost any type of precision machined tooling and componentry, companies looking for effective manufacturing solutions turn to Apex Tool Works.
The end is only the beginning
Apex is a worldwide supplier of products, equipment and services that include: single, double and multiple-cavity can end dies; curler tooling; coil sheeting and rescroll dies; specialty tooling for producing lug caps, aerosol domes and shallow-drawn food cans; can end research and development; die resharpening; spare parts service; customer press overhauling and retooling; and even complete can end production systems.
Additionally, our Swangren Machine Division offers a wide array of machines for production of lugs caps; compound pouring; cap lining; and specialty applications that include blanking, trimming, flanging, curling, beading, upsetting and hemming.
And our extreme range of capabilities means Apex can offer everything from dies to ideas. So whether your project starts with furnished drawings or requires more extensive design and engineering support, Apex can manufacture almost any type of part or assembly—under one roof—with the ability to select the most efficient production methods for the particular project.
Powered by professionals
Although technology has made it easier to meet tight tolerances and even tighter schedules, people—capable, experienced and committed—are still the essential part of the process.
We continually invest in every level of our staff, training them in the latest machining and production management techniques. And they respond in kind, by suggesting improvements in our methods that could only come from hands-on experience.
Service from the source
Apex understands that web-enabled data sharing, E-mailing of status reports and progress photos, even good old well-timed phone calls are essential to keeping the customer in a resilient loop for timely feedback, approvals and changes.
But customers get a comfortable feeling knowing that beyond communications technologies, Apex is physically here, centrally located in Rolling Meadows, Illinois, not far from Chicago's O'Hare International Airport and major Midwest ground transportation arteries. Because customers know that communications, engineering changes and maintenance get done faster with the firm that originally built the tool, component or machine, and that understands its unique personality.
State-of-the-art facilities
Apex is centrally located in Rolling Meadows, Illinois USA, not far from Chicago's O'Hare International airport and major Midwest ground transportation arteries. Our state-of-the-art facilities provide Apex engineers, toolmakers, designers and production operators with the resources they need for fast, efficient response to any customer requirement:
High-speed CNC machining centers.
Latest in Automation.
High-precision conventional machine tools.
In-house engineering running advanced software platforms including 3-D modeling.
Quality Assurance Program based on U.S. Military Specification practices backed by state-of-the-art electronic inspection routines.
Doing Business in "Chicagoland," USA
"Chicagoland" (that is, the greater Chicago metropolitan area, Northern Illinois, Northwest Indiana and Southern Wisconsin) is one of the most active and business-friendly metalworking markets in the world!
Chicagoland enjoys a strong manufacturing infrastructure with more than 20,000 manufacturing concerns. The region has one of the highest proportions of manufacturing jobs in the USA with a tradition of metalworking, machining and machine design and innovation that extends well into the nineteenth century.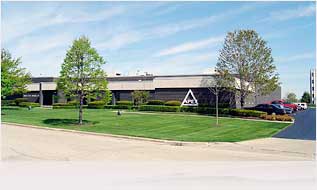 Concept Through Engineering to Manufacturing Solutions