Apex manufactures a full range of precision tooling and associated parts for the production of lug (twist-off) caps, threaded jar caps and similar closures. All tooling is produced from superior quality carbide and tool steels for high performance and long service life, and is available to fit the full line of Swangren machines, as well as other types of cap making machinery.
Full Support
Beyond manufacturing, Apex also provides a full range of services in support of your container tooling and component parts requirements. For example, all Apex tooling is cataloged by a unique part number and engineering drawing for fast, convenient reordering along with assurance of exact duplication of replacement parts. And, utilizing our computerized parts programming system, we store manufacturing programs to promptly translate your latest engineering changes into new manufacturing specifications.
But Apex doesn't stop there. We also provide a full range of support manufacturing services that include die resharpening/rework as well as the capability to produce many other machine and equipment parts and assemblies.
Leverage Our Experience
At Apex, we leverage four generations of container-related experience to reduce design/engineering lead times and/or set-up times. Chances are, at one time or another, we've handled a project similar to the one you need now. This gives us a head start towards finding your optimal solution along with insights that occasionally may even enable us to suggest changes to improve our efficiency—and yours!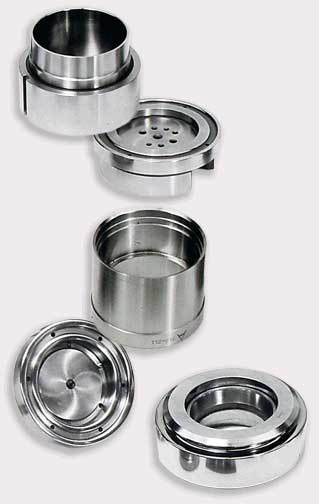 Concept Through Engineering to Manufacturing Solutions