The "New" Solution
Whether you need a standalone curler machine, or multiple curlers integrated into a line, or if you have a library of serviceable curler tooling but your aging curler needs replacement – built-to-order curler machines from Apex's Swangren Division are the turnkey solution for manufacturers of can ends and similar components.
Engineered for Productivity
"Making do" with used or refurbished curlers that don't quite match your spec can compromise performance. Instead, our Swangren Division designs, engineers, builds and supports curlers optimized for your application:
Sizes from 110 – 610
Any curling plane orientation, from horizontal to vertical and any angle in between
"Double," "Over/Under," "Offset," and other custom curler machine configurations available
From the Company That Builds the Tooling
Swangren curler machines are engineered and built by Apex – a world leader in tooling for the can and container industry with an unmatched reputation for precision and service life:
Precision-ground tooling mounting surfaces ensure outer segments and inner ring are perfectly coplanar for maximum uniformity of curled ends
Timken® tapered roller bearings support the center spindle for smooth, wobble-free, trouble-free operation
Maintenance-friendly spindle-cartridge design allows easy access via four bolts; remove cartridge as a unit for quick, convenient bench maintenance
Designed to applicable worker safety standards; available sensor system detects jams and stops the press to prevent possible spoilage
Specifications
Configuration, overall dimensions, weight, utilities, all per your required design; please don't hesitate to contact us to discuss your application.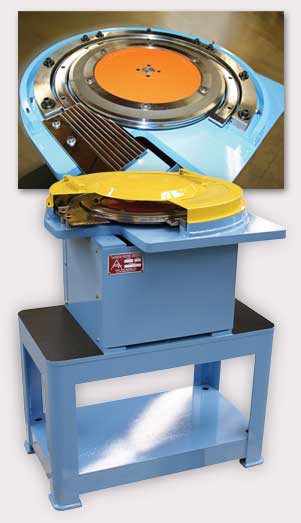 Concept Through Engineering to Manufacturing Solutions