RLS-8 Enhanced High-speed Rotary Lug Machine
Designed to Support Hi-Speed Multi-Die Lines
Proven, reliable Swangren RLS technology in a high-speed, (30mm caps tested to 1,250 caps per minute) configuration to back-up mist of today's multi-die lines.
Precision nylon screw in-feed
Main gearing runs in enclosed oil bath
Available PLC-control package
Modular design
Robust, stable construction
Specifications
Technology Brief:
High speed, continuous rotary forming machine; basic configuration includes 3 work stations with 8 pockets each.
Production Rate:
30mm lug caps tested to 1,250 caps per minute
Cap Size
30mm – 89mm
Dimensions:
73" L x 50" W x 122" H; 5,000 lbs.
Utilities:
Electric service per customer's requirements; minimal air required.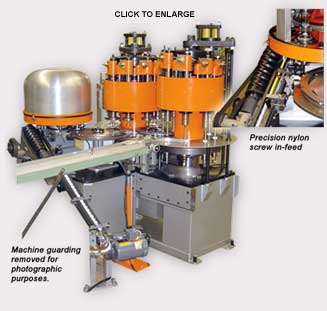 Concept Through Engineering to Manufacturing Solutions