Apex Enhances Swangren RLS-8 Rotary Lug Machines to Better Support High Speed Multi-Die Lines
(Rolling Meadows, IL) APEX TOOL WORKS, INC. — maker of precision closure tooling and equipment — announces that enhanced versions of its Swangren RLS-8 rotary lug machines have been successfully tested at production rates that will enable a single RLS-8 to support a high speed, multi-die lug (twist off) cap line.
The result of on-going Apex research and development initiatives focused on improving machine productivity, the enhanced Swangren RLS-8 has been successfully tested running smaller caps (30mm-38mm) at speeds as high as 1,250 caps per minute. The higher production rates are made possible by a newly designed, precision nylon screw in-feed, and an enhanced transfer mechanism. Development is underway to verify production of larger caps at similar high speeds.
The enhanced RLS-8 offers the same reliability and ability to run for extended periods with only minimal adjustment that has long made the RLS an industry preference.
The Swangren RLS-8 machine's basic configuration includes three work stations, each having 8 tool locations. Main gearing runs in a totally enclosed oil bath — an important consideration for food grade operations — while lubrication fittings are provided for all key points to minimize wear.
The RLS-8 is equipped with a 7.5 HP AC brake-motor with variable frequency control. A PLC-based control package is optional.
The RLS-8 is of a modular design, allowing for easy custom configuration. Now, the proven, robust reliability of RLS technology is available in an enhanced, higher speed configuration designed to back-up most of today's high speed multi-die lines.
Apex Tool Works manufactures the Swangren RLS-8 and also designs and manufactures the tooling used by the machine, eliminating the need for customers to separately source machines and tooling, thus helping to reduce total system costs while ensuring complete compatibility between machines and tooling.
Specifications
Technology Brief:
High speed, continuous rotary forming machine; basic configuration includes 3 work stations with 8 pockets each.
Production Rate:
30mm lug caps tested to 1,250 caps per minute
Cap Size:
30mm – 89mm
Dimensions:
73" L x 50" W x 122" H; 5,000 lbs.
Utilities:
Electric service per customer's requirements; minimal air required.
Wholly owned by APEX TOOL WORKS, INC., the Swangren Machine Division develops and manufactures a complete line of machinery and equipment used for production of lug caps, and for compound pouring, cut-and-place lining, and for specialty closure operations including blanking, trimming, flanging, curling, beading, upsetting and hemming.
APEX TOOL WORKS, INC. is a worldwide supplier of precision tooling, machinery and systems for the production of can ends and other metal, paper and composite elements used in can- and container-making and packaging. The company has developed a broad range of products, services and capabilities over its past 85 years of growth.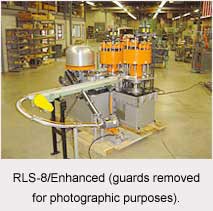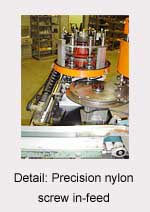 Concept Through Engineering to Manufacturing Solutions