Coil & Sheet Cutting Dies
Primary, Secondary Scroll & Other Large Cutting Dies
Quality For Tooling Life, Uptime
Apex builds coil sheeting dies for both straight and scroll cutting of oval and round blanks. Each assembly is manufactured from the finest quality material available and fitted with precision-ground, interchangeable cutting edges for increased tool life and production line productivity.
Our manufacturing capabilities combine a battery of conventional high-precision machines with high-speed CNC equipment to provide drilling, milling, turning, and surface and jig grinding. We work to specifications that my typically require meeting tolerances of 0.0003 inch or better.
Quality From Experience
When it comes to making tooling used in the production of steel, aluminum and composite cans, pail heads, fiber drum rings and heads, and lug (twist-off) and threaded jar caps, Apex backs its products and services with four generations of container manufacturing experience. Our engineering staff is thoroughly familiar with container manufacturing processes and requirements while our skilled tool-makers employ state-of-the-art technology in our dedicated facilities.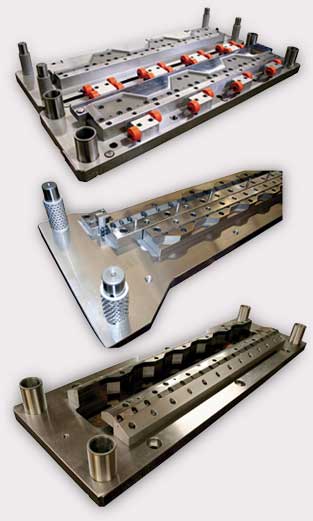 Concept Through Engineering to Manufacturing Solutions