BKS & BMS High-speed 4-Post Dial Press
Description
The BKS & BMS are a high-speed, 4-post, flywheel, underdriven press equipped with a rotary dial transfer feed. The press has a 2″ stroke and a capacity of 10 tons. Power is supplied by a 5 HP motor through a high-torque pneumatic clutch/brake.
The BKS & BMS are designed to operate at 200 strokes per minute, and is typically equipped with double-lane tooling thereby yielding 400 units per minute. Up to four sequential operations can be performed per lane.
The eight-station dial is indexed by a roller gear unit running in an oil bath. The welded base is the reservoir. Oil is filtered and pumped to the main bearings, post bearings and other key points to ensure effective lubrication. Other wear points are lubricated with oil cups or grease fittings.
Operation
Units are fed directly into the dial by the optional conveyor. As the dial indexes, units are properly spaced for subsequent operations such as blanking, trimming, flanging, upsetting, beading and hemming. A scrap discharge chute is provided.
Specifications
Technology Brief:
High-speed, underdriven, dial transfer press
Production Rate:
Single lane — 200 units per minute
Double lane — 400 units per minute
Triple lane — 600 units per minute
BKS Dimensions:
Contact us for details
BMS Dimensions:
74" L x 44" W x 63" H; 6,250 lbs.
Utilities:
Electric service per customer's requirements; air requirement of 80 PSI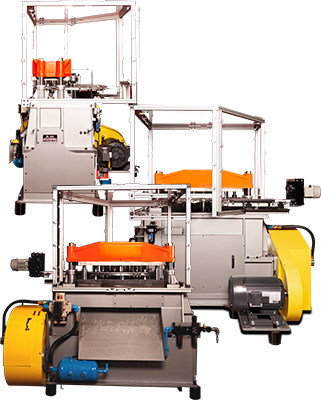 BKS High-speed 4-Post Dial Press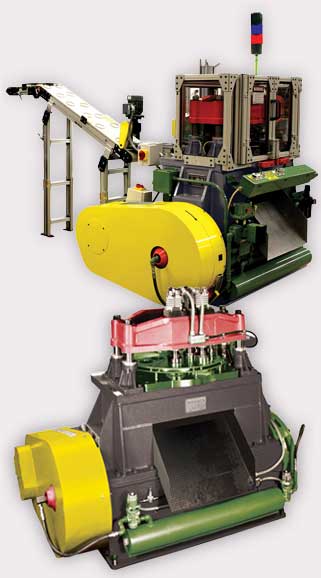 BMS High-speed 4-Post Dial Press
Concept Through Engineering to Manufacturing Solutions