When it comes to precision can and container end dies, Apex manufactures a full range of multiple, double and single-cavity dies for beer, beverage, food and other type containers – all produced from the finest quality carbide and tool steels.
Full Support
Apex doesn't just manufacture container tooling and component parts – we also provide a full range of support services. For example, all Apex tooling is cataloged by a unique part number and engineering drawing for fast, convenient reordering along with assurance of exact duplication of replacement parts. And, utilizing our computerized parts programming system, we store manufacturing programs to promptly translate your latest engineering changes into new manufacturing specifications.
Leverage Our Experience
At Apex, we leverage four generations of container-related experience to reduce design/engineering lead times and/or set-up times. Chances are, at one time or another, we've handled a project something like the one you need now. This gives us a head start towards finding your optimal solution along with insights that, occasionally, may even enable us to suggest changes to improve our efficiency – and yours!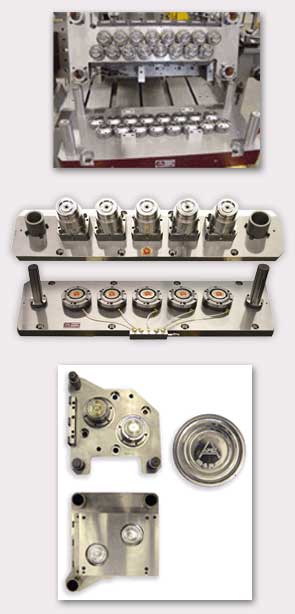 Concept Through Engineering to Manufacturing Solutions