We can design and manufacture special tooling from either furnished drawings or from sample parts to meet your requirements. We can also provide design information regarding tooling for current production or for prototyping/new programs. Apex has the expertise and capability to manufacture a wide range of "special" tooling used in the production of steel, aluminum and composite cans, pail heads, fiber drum rings and heads and lug-type screw-off caps.
Apex materials, processes and designs are all focused on providing high performance and long service life.
Curler tooling, for example, is manufactured from AISI D2 tool steel which is fully hardened. All curler ring grooves are ground with single-point, diamond-dressed wheels for optimum finish. The net result is a tool that will reliably hold its geometry for long, trouble-free operation.
The design of Apex curler rings also contributes to exceptional service life. Typically, both ring and segment are designed with two identical grooves, although only one groove at a time is used; when significant wear is detected, the tooling can easily be inverted so that the second groove can be utilized.
Apex produces a broad range of other tooling for the container industry, all made from the finest quality carbide or tool steels, and all guaranteed to meet your exacting requirements:
Blank and form dies
Curler tooling
Flanging dies and rings
Beading rings and rolls
Die cover plates
Feed finger lug cap tooling
Pail and drum head dies
Ring and plug dies
Lug cap tooling
… as well as many other parts.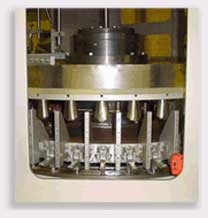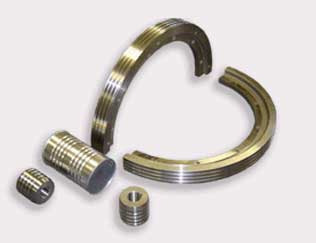 Concept Through Engineering to Manufacturing Solutions